Firstly an apology……

 
This promises to be a mammoth newsletter as so much has been happening recently within the Zoho family. So get a cup of tea (or coffee if you must), sit back and enjoy. Oh and another apology, some of the features I may talk about may only be available with specific editions of Zoho CRM (or other apps). I will try and identify with an (EE) where something is only available with the Enterprise Edition. Far be it from me to suggest you should upgrade but there really are some cool features available that can make your lives much easier (well at work anyway).
Also before we get into specifics you should by now have switched over to the new User Interface for CRM, if you haven't shame on you! It really is much better and we are now beginning to see new functionality with the new UI that isn't being implemented on the old one. So do change over, it will take a little bit of getting used to but it really is much better. The old interface will only be available until 15th December this year so do get used to it before you have to change over.
Zoho Marketplace (EE)
There have been a plethora of additional integrations made available. These are all now housed in the Zoho Marketplace for those of you with the Enterprise Edition. External companies and Zoho partners are now also producing apps and extensions and making them available there (most free of charge) so do take a look.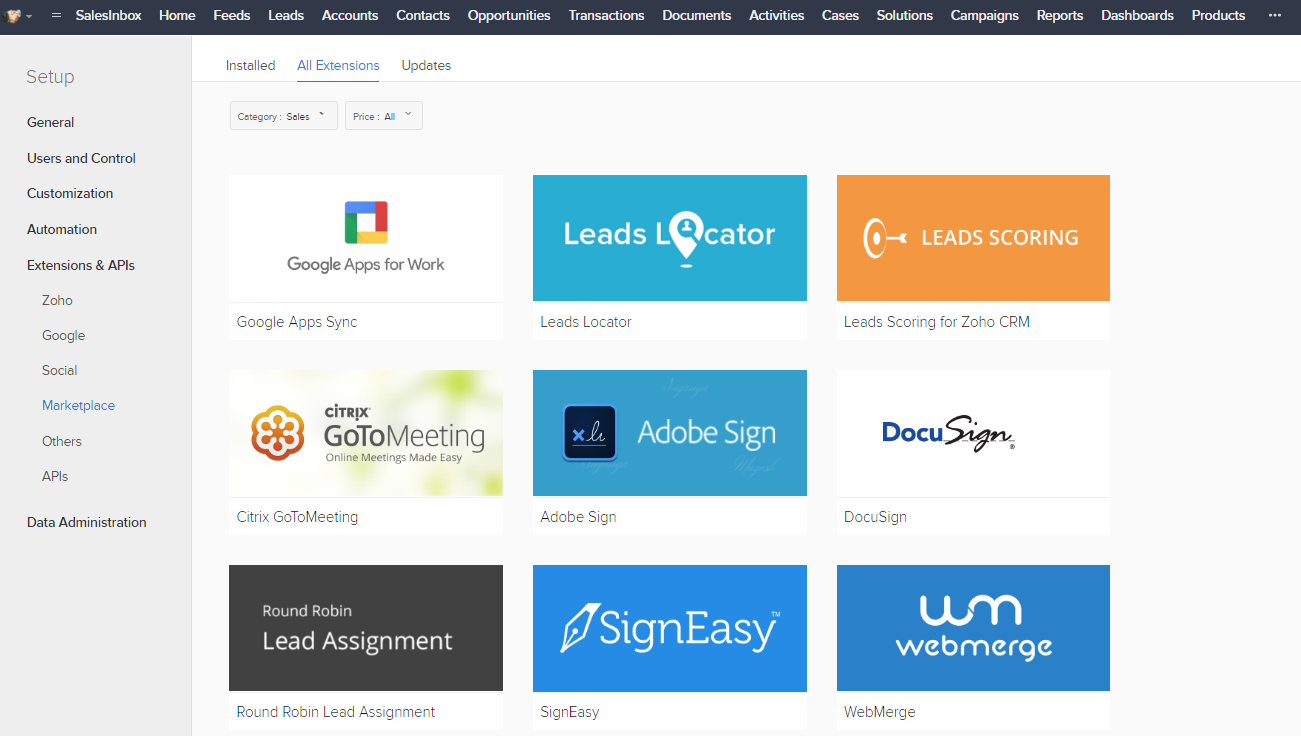 It is early days here but some of these extensions are very valuable and can transform the way you integrate applications together. Please contact us if you have any questions.
PBX Phone Integration

 
It has been possible for some time now to integrate Zoho CRM with your phone system but now this has been made even easier with the newest version of Phonebridge from Zoho. It is also now possible to integrate Zoho Support with your PBX phone system. This means that when using a PC phone you know who's calling (through a popup) if the number is recognised and details of the call with be stored against a person's contact record as a closed activity. Loads more here.
Document Attachments
It has often been asked by clients as to whether they have to attach the actual document to a record in Zoho and until recently this has been the only way to associate a document with a record. Now (with the new User Interface) you can attach a document as a web-link. This means that you will always have the latest one visible if you make any changes to it in another system. It also doesn't use up storage capacity on your CRM account.
E-Signature (EE)

 
Of particular note in the Marketplace are two additional e-signature applications bringing to a total of three possibilities to use e-signature for documents directly from the CRM system. Integrations are now available for SignEasy, DocuSign and Adobe Sign. So much choice!
Kanban view (EE)

 
You can now choose to view your opportunity (potential) pipeline with a 'Kanban' view which means you can drag and drop Opportunities from one stage to another and a total will be shown at the top of all the stages. You can also add Tasks etc. directly from this view and be alerted when an Opportunity has no Tasks associated with it.
The Kanban view idea goes further than this and extends into allowing you to use it for any picklist values so for instance if you have a field that identifies leads as hot, warm or cold you can choose to view your leads like this rather than in a row format. Very cool!
Get in touch if you want to hear more.
Sales Inbox

 
If you're a sales person who has your emails integrated with Zoho then it can be difficult to get an overview of the importance that each of these emails has. Now with the Sales Inbox functionality (ask me if you want to trial it) you can see all of the emails from Customers, Leads, Contacts or Colleagues etc. in separate columns in your 'Inbox' within Zoho CRM. It is difficult to describe it accurately here but do let me know if it sounds interesting to you. I've given you a taster below and you can read more here.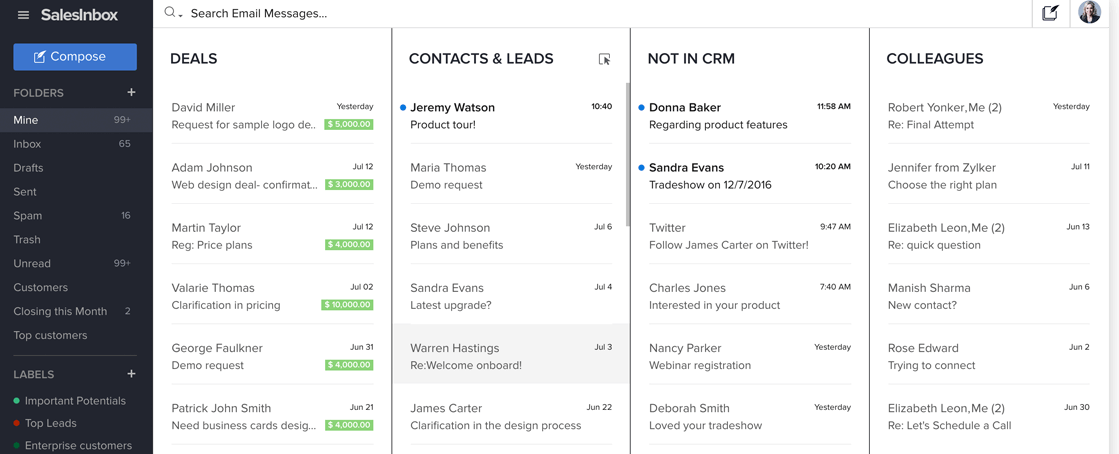 Templates 
Well what hasn't changed with templates. There is now a very sophisticated way of creating, storing and and analysing the performance of different templates. There is edition control and some very well thought out analytics capabilities looking at who opened your templated emails, who clicked on what etc. It brings the sophistication of e-campaigning reporting to emails sent directly from your CRM system. So if you send out a welcome pack to a client then you will know which edition of your welcome email was used, the open rates and times of opening and whether the customer clicked on anything within the email. You'll be swimming in data. It also analyses when people open the messages and suggests the best time to send them – cool!
Gamescope 
We are beginning to be asked to help people set up gamification within Zoho CRM. All this means is that you can set particular 'games' for people to compete with one another. An example may be the number of Opportunities closed within a particular month or the number of tasks closed. All you get is little badge (which you can edit) but you can add cash or other prizes outside of the system to help motivate people and get a little healthy competition going. Staff can see how they are doing as league tables can be accessed by users. It can certainly help you motivate the right behaviours such as closing tasks. More here.
Motivator 
Going one step further Zoho Motivator (call us and we can describe it further) gives you the opportunity to have a large screen display on the wall of your office that links to key performance indicators within your Zoho systems. These are updated live and you can choose to display leagues tables if you want or just overall figures such as month end targets. It also serves as a 'Newsboard' with messages that you can put like news stories on a 'ticker' section along the bottom – think TV news channel. We can certainly help implement this for you if you believe it will motivate or inform staff in your office. More here.
Field Tool Tip

 
You can now (finally) choose to display a user-friendly 'tool-tip' when editing a field. This allows you to put a description of the field and show it when you edit the field. So if you have a field called 'Flunge Number' then you can see exactly what this means when you edit it. And no I don't know what a Flunge is either.
Profiles

 
The way profiles (what a user can do on the system) has been completely revamped and is now much easier to use and edit profiles. It is quite a change but it has been very frustrating having to check or uncheck hundreds (literally) of checkboxes every time you wanted to create a profile. Controlling what your users can do on the CRM system is now done in tiers with you choosing whether someone for instance has any permission to export records etc. Much easier than before. There is more on this here.
---
At a slightly higher level within CRM circles Capterra recently released a report here that makes interesting reading if you are planning to implement or upgrade your customer management capabilities. The report can be read here.
The Key Takeaways are:
More than half of users adopted a CRM within their company's first five years in business, and 2/3 of companies had at least 100 customers when they first purchased a CRM. 
One third of CRM users use Salesforce, while other software industry giants Microsoft, Oracle, and SAP combine with Salesforce to dominate 75% of the CRM market. 
On average, businesses spend $150/user/month on their CRM. 61% spend over $50 per month per user. 
Despite the growth of Social CRM people still want more, and the most desired CRM features were social media monitoring capabilities (25%) and the ability to pull in prospect information from social media (24%). 
CRM software had the biggest impact on customer retention rates and customer satisfaction rates, according to respondents. There are many more little things that have been (and continue to be) improved and so if you have any questions do contact us and we will be more than pleased to help.
---
There are many more little things that have been (and continue to be) improved and so if you have any questions do contact us and we will be more than pleased to help.Just to finish off please do let us know if either you are on the fence at the moment between choosing Salesforce (yuk) or Zoho (hooray) or want to show your FD how much money you are saving the company then we have an excellent document that compares the two system choices that we can share with you.
Until next time…… 
The team at Clareti